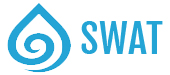 School of Water Technology (SWAT), an initiative of KASE and operated by M/s. Green Method Engineering (P) Limited, Kochi is the first-of-its-kind school in India offering courses for Water and Waste Water Treatment plant operators. Depleting potable water resources and tightening water quality regulations has forced the water industry to design robust, maintainable and sustainable treatment systems and this change has led to the requirement of skilled professionals for manning and operating such systems.
The primary focus of SWAT is to ensure that the students learn not only the skills required to protect our water bodies but also understand the critical need to do so in our present times.
• Certification for Water and Waste Water Treatment Plant Operator
• 4 months duration
• Designed for science stream students
• 45 hours of class work, 105 hours of onsite practical training which includes 1 month internship at a functioning plant
• Comprehensive facilities including smart class rooms, and basic mechanical & electrical workshop
• Kerala State Pollution Control Board approved B grade Chemical laboratory
• 60% placement
Green Method Engineering Pvt. Ltd.
First floor, 19/195A1, ATC Building, Moolepadam Nagar Road
HMT Junction, Kalamasserry PO, Cochin 683104
Website: www.greenmethodengineering.com
Email: admin@greenmethodengineering.com
Phone: 0484-2555336/ 9846618371